IV. AMPHI-FESTIVAL 19.0 + 20.07.2008!
(c) Tanja- www.northern-rockmusic.com
click here for german version
Actually it would already be enough to say that the festival was sold out, except for some one day tickets for Sunday. . . It proves at least that the popularity of the Amphi Festival increases from year to year.
Fair prices, more merchants and better catering from year to year, well situated location and last but not least the fact that the line up makes the heart of nearly every "dark soul" beat faster.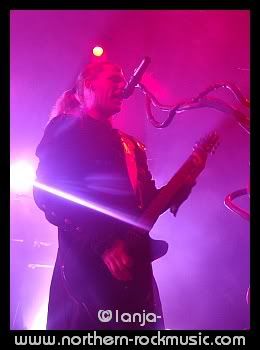 Diary of Dreams
With headliners like And One, Oomph and Deine Lakaien, goodies such as Das Ich, Welle:Erdball and Lacrimas Profundere, it was hard to find out what to look forward to first!
Not to be missed was also the farewell gig of Haujobb and the performances of L'Âme Immortelle and Soko Friedhof, as the Amphi Festival was the only summer festival in Germany to have those bands included in its line up.
Covenant
Unfortunately I couldn't see all the gigs but one or the other band really managed to capture my attention more than others : Convenant, Diary Of Dreams, Combichrist and Nachtmahr were my favourites this year. Why? Not that the other bands didn't give their best but those 4 impressed me the most! Standing in the press area I nearly forgot to take pictures and started to dance!
A success were also the afterparties at the theatre, as bonus one was also save from one or the other rain shower. Sad was the fact that the theatre can't welcome more people and that a long queue in front of it seemed to be part of the festival.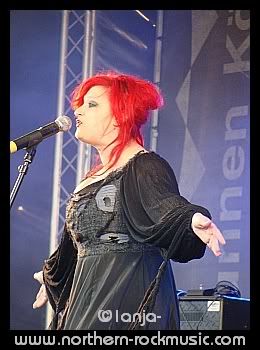 Combichrist L'ame Imortelle
As I didn't want to rely only my own opinion to evaluate this festival I asked some visitors about their impressions. Most of the comments were positive but there will always be people who have complaints to make. Despite the not so summer-like weather , the 4th edition of the Amphi Festival was an entire success (for us fans at least) and I end my report by agreeing with the tired but satisfied Gothics, Punks and so on, who told me at the end of the second day: "We are already looking forward to next year!"
OH YES THAT'S WHAT WE ARE DOING!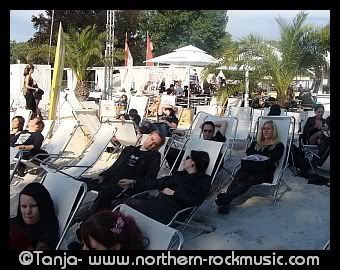 ---






IV. AMPHI-FESTIVAL 19.0 + 20.07.2008


(c) Tanja, www.northern-rockmusic.com