Negative 09.12.08 Hannover Musik- Zentrum

(c) www.northern-rockmusic.com



FAS: What have you done in the last month?

Jonne: We had some demo sessions last week, that's why I'm so excited. What can I say, everything seems to be very interesting at the moment for us. I'm really inspired. And life is good – in gerneral. You know, everything is fine. It's great to be back here. I mean, it takes a few shows to get in a rythm of touring so that's why I'm really excited.

FAS: What can we expect from the tour?

Jonne: I don't know. At least good shows. We've been on the road so far like more than a half year so .. plan is quite tight at the moment. It's been good. Two weeks ago we came back from Mexico City. We were the first time over there. It was pretty nice. We were supporting a band from L.A. – London After Midnight- and it went really well. We can be back there soon also including Argentina and so on. We are still concentrated, our power all over the globus. Step by step to reach some new countries with Karma Killer.
FAS: Yeah you will play in Italy and Spain the first time.
Jonne: Yeah later on.

FAS: Do you like to play in such small clubs like yesterday (Hamburg) or in bigger venues?

Jonne: It's a change. There is a certain kind of atmosphere I like. People are really close in front of you, it's like.. they can smell your sweat. That's why it's nice (laughs) Well you know, it's nice, it's different to bigger festivals for example or bigger venues but I like the whole combination of all these parts. It is refreshing.

FAS: Do you recognize the audience changed a lot? There are more men and older people on your gigs.
Jonne: Here in Germany?
FAS: Yeah.
Jonne: I can't say it because we played one show so far so I don't know. I didn't notice. There were still "the" women in the first row and the spotlights were blinding me so I couldn't see anything behind.
But in the end it's different between, I have to say honestly, it's different between for example finnish audience and here, because here are probably more older people. So we have the first fans started to follow the band, when they were teenager mostly so…

FAS: So why do you decide to go on with just one guitar on the stage? Doesn't make it a big change in the sound?

(Larry comes to join the interview, too)
Jonne: It seems like, first of all, it was weird because we got used to, for so many years with two guitars so it's the sound for the audience. I think we have such a brilliant guy for the sound. He's doing so a great job with the sound. Its so refreshed. It's more space for each instrument in these days. Of course it's different but it's a new Era for us.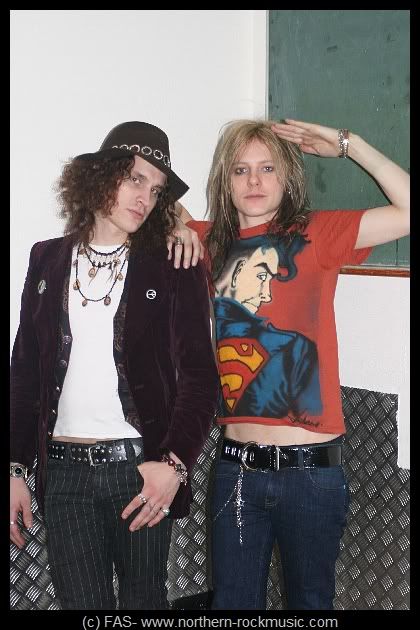 FAS: What is your biggest fear on such a long tour?

Jonne: At least because we're going on just with one guitar I'm afraid of his fingers (pointing on Larry) (everyone is laughing)

FAS: Do you still have stagefright?

Jonne: Yeah, in a way, in a way.. I still have it but it depends so much on the day and your mood and everything. How much you slept and, you know, about everything. What is the situation in your private life for example, are the things going well.. you are fine when everything is fine too. You know what I mean.
FAS: I know what you mean.

FAS: Do you think, being on tour changes your personality? The tourlife-Jonne vs. the private-life Jonne?

Jonne: Well actually I haven't known, for many years now, who I am. There are still so many "Jonne's" in me. (laughing) It's more… like…
Larry: … being at home.
Jonne: Yeah.
Larry: You know, first everyone is acting like normal and very polite and then after one week or so everybody it's like being at home. Farting and ... just doing it.
Jonne: It's really natural what we are. After all these years we are on the road together so it's normal, but I like it. I like it to be on the road. It's nice and now we have this litte studio in the bus, upstairs, so we can record some demos if we want, at the same time while we are on the road.

FAS: Will there come additional gigs to this tour …

Jonne: You mean if there will more gigs added to this tour? Well I think for Europe that's it. We will concentrate after that on our new album. I think it will be out in 2009.
FAS: That's next year. ;)
Jonne: Yeah (laughs) So we will be back soon.

FAS: Do you have any information about the success of Karma Killer and the DVD here in Germany?

Jonne: No I haven't. Well it came out in spring in Finland and there were six month till the release here so I think most of people bought it there or ordered it on the internet.

FAS: Do you plan to release a new single from the album also here in Germany?

Jonne: I don't know, I don't know (smiles) Well I think, it is at the moment "Won't let go" being on some rotation for some radio stations.
Larry: Yeah its only on radio.
Jonne: But our concentration is focused only on touring at the moment. And it's hard work.
Larry: And we are in a funny situation because the next record is going to be with a different record label. So this is the last one with the old label. Its Jonnes brothers label and he cares about us.
Jonne: But for the next one it won't be that anymore. Theres a totally new situation for all over the globus. So that's interesting.
Larry: But the rest is still a secret.
Jonne: It's confirmed but we don't want to talk about it now.
Larry: Yeah, they are going to make it official at some point.

FAS: How do you spend your christmas this year?

Jonne: I think I'm gonna stay at home alone. After this time of tour when you come back you just want to stay at your own. No people around you. You know, it's so hectic here in the end. So we will be back home at the 23rd. of this month and christmas eve is on 24th. So we have two days off and we will be back on the raod at the 26th.
FAS: So just sleeping.
Jonne: Yeah, just sleeping and hugging Santa Claus (everone is laughing)

FAS: What are your wishes for the new year?

Jonne: For the new year? New Album.., ..and ähm, a lot of things, more touring, more everything.
Larry: Simple things, more kind of balance, we are getting there, but we are not really in.
Jonne: Yeah it's nice. Life generally.

FAS: So, at least, do you have some private words for your german fans? Anything you wanna tell them…

Jonne: Well, thanks for keeping the spirit of Negative alive and it's good to be around, once again. Hope you enjoyed our shows over here and keep up the good Karma.



Thanks to EMI, Jonne, Lauri, Kari and CMM for the support, cooperation and the time!
Thanks to Steffi for filming and transcripting!!!
(c) www.norhern-rockmusic.com Frances Amelie Sin

Pictures of the Hamburg and Hannover shows are in the gallery!!