This is what stays after deleting a lot of i don't knows and i don't cares....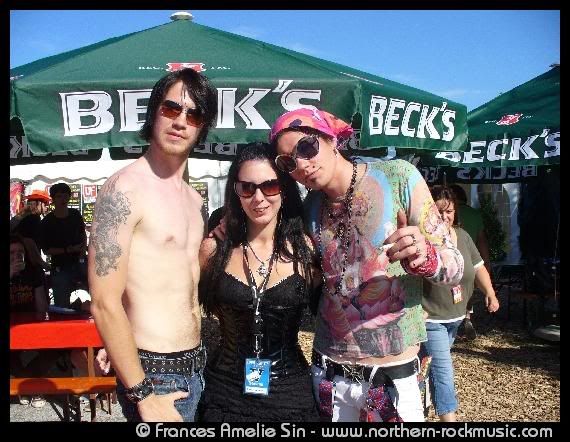 When did you get the information that Balve "Rock am Schloss" was cancelled and what did you do instead??
Jay: We were here in Germany, two days ago at 11 O' clock we were told that it is impossible to play at that venue because of a flow.
We had a day off then and were walking around the city, had some sightseeings.
It was a great old town, beautiful (Rothenburg)...
What about the DVD , there are various informations about it.


Jay: Well I don't think that Roadrunner will release the DVD in Germany, they have different ideas to us what it should look like.
There will be one whole concert on it and lots of other material by the way.
But we are happy that we can go on tour in September, it's always great to do gigs. Let's say that we do all that we can to bring our music to the people.
Kris: But I think our music is too heavy for Roadrunner... I don't know what's the main problem with it.
Jay: We just wanna stay what we are right now and Roadrunner wants to change us to be more mainstream. But we don't want it!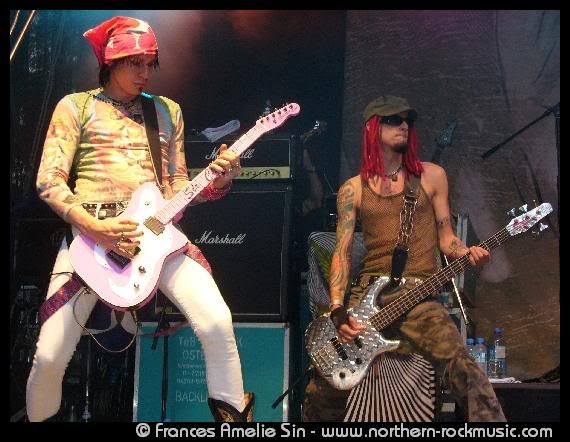 Who planned your Tour?? It's bad planned by the way!


Kris: I don't know, it's not our job, we are just playing. -.-
Will there come more Concerts, maybe in Austria and Suisse??


Kris: I don't know...
Me: Do you know anything??????
Kris: No!!
Jay: There is nothing planned, just the german tour, some dates in Russia and the chinese Tour. Theres no space for more dates this year!
Kris: Actually I don't know where this place is??
Me: Where we are at the moment?? Right in the middle of nowhere (I paint Germany on the table and show it to him). There is nothing around here. (Jay tries to speak out Eschwege - funny but what the hell happens to my Interview?)
The developement in your music was very strong at last, will you go on with that , making the music heavier than before?


Jay: I don't really know, it wasn't planned at all, but we all like it this way, so maybe we should go on in that direction. But I can't say how the new songs will be in the end, we are not far enough with the material.
Kris: You know every song has a kind of soul in it, you have to appreciate every song when you listen to it! There are a lot of things coming together writing a song...you know I try to answer with my guitar on things that Jonne write, that I like for example...I usually answer him with playing something.
How do you write the songs??


Kris: It's just what's in my head, I don't make any plans, sometimes it comes out ...
Jay: When we have to do an album we don't know what will come out in the end. After two month work we will know it better.
Kris: Every song is a special element in the whole album, but in the end it is one work!
Have you ever written a complete song yourself?


Jay: No never.
Kris: No Larry and Jonne write the songs. I have just a few ... IDEAS... *laughs*
Will one of you ever sing again??


Kris: I dont know *looks weired*. I think next tour in Germany, we have to take Lost In America to our setlist. We will see what will happen, I am shy...
Jay: Yeah the Still Alive punk version, why not... it was fun, I would do it again one day.
Thanks guys
pictures of the Open Flair gig are in the Gallery
www.northern-rockmusic.com