Interview



Negative: Jonne & Larry at Telakka, Tampere, 15.07.2008



FAS: Tell me how is your feeling about the release of Karma Killer?

Jonne: It's been great, we got quite a lot of positive feedback, we were very nervous because of the change in the lineup, you know!? There were some problems to find a lable to release the album in the rest of europe but we find one now, Edel-music. TheDVD will also released now in other states.

Larry: Karma Killer will be released in the beginning of September in Germany!

FAS: Can you describe what's special on Karma Killer, what's different to the other ones?

Jonne: To me personally there's a lot of positive energy in this album, if you put all the elements from the other albums together and put something fresh on the top, thats what Karma Killer is!

Larry: Anorectic was some kind of dark and there is not so much darkness on Karma Killer.

Jonne: We tried to do some wider step into some unknown space with our sound.

FAS: Well I guess the typical Negative sound is missing on some songs of KK. It goes more into the Brit-Rock direction, why is that so strong? What was your biggest influence for KK?

Jonne: Muse, for me, and Queen!! It depends, you know, for each album there has been a different kind of influences for me personally! (Looks at Larry) I think we all have the same kind of heroes for the whole band but each of us prefers different music, that would break the limits! But it presents the sides of us and makes us being creative when you are going on with the eyes wide open for all kind of music szene!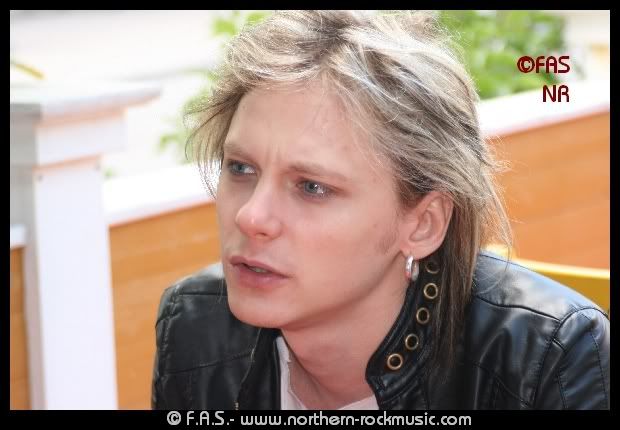 FAS: How long have you been in studio to record KK?

Jonne: It was quite hectique, we just went to the studio and ... (his arms moving in circles)

Larry: It was very fast...

Jonne: Yes it flows, we went in and out and that was it! It was just a few weeks! It was pretty nice, fast and nice! Of course we were rehearsing in a longer season!!

FAS: How do you work in the studio??

Jonne: This time we started with some demo- recording, and then we were checking all the things with the sound and how we can do it right and then Jay was the first one to record the drums.
We recorded drums, base, keyboard and the guitars cause it is much easier to hear the chords and tunes at the keyboards. And I am the last one!

FAS: Are you there when the others are recording their parts?

Jonne: Yeah, usally! But it depends, it is not nessecary. You know we give some space to each other.

Larry: It is not good if it is too crowdy in the studio, like there is everyone there watching you behind the window.

Jonne: I don't like it that much to do my vocals when all the people are staring at me! There are just a few people around and it is more relaxing then!!



FAS: What is the band doing at the moment, I know you (Jonne) go to studio today...?

Larry: Well, we are going to see what we have now, you know, material, new songs, so we wanna start the writing process very early. We wanna give more time to the songs and then see what happens. Maybe we write some extra material.

FAS: Well yeah, so from how many songs do you choosed for KK??

Larry: Ten! Ok first we had maybe twelve songs! (O.o)

Jonne: We decided to keep it very simple! This time we gonna do it different, we want more songs to chose from, like bigger bands do ;)!! For example Linking Park, they do more than thirty songs and after that they start to check it!!

FAS: Yeah and then there are a lot of B-sides!

Jonne: Yeah that's what we do, what Larry said, a lot of extra material!

Larry: Yes and we do a lot of rehearsal with all the new songs and they keep on rolling and it's good to keep on playing a lot at the moment, of course some holidays between, it developes the band. Many many bands forget that, they have to play a gig and then meet just once short before!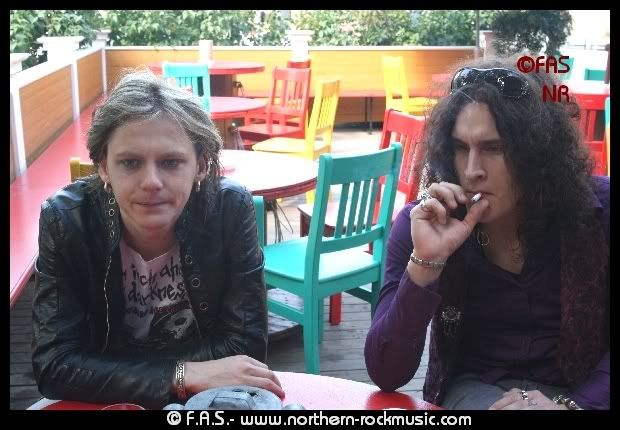 FAS: Ok, something else, do you plan a tour this year and do you wanna go to USA?

Jonne: Yes there are a lot of new concerts coming in Fall. There are about 45 gigs planned for the upcoming european tour!
In November we're gonna have a short visit in Mexico and Argentina, in the end we are still concentrating to the european area, and asia. I think the states are difficult to conquer and it takes a lot of time.

FAS: You had this circus theme for Anorectic, do you have some special theme for Karma Killer now?

Jonne: No (laughs) we don't have anything!!!! We wanna keep it quite simple!!
(Larry says some words to Jonne about David Bowie)
Oh yeah, you know I had this silver make up on the KK -cover? So probably on stage we will look a bit gay! ( he moves like a robot) And I wear tight silver pants! But we are not in a good shape at the moment, we have to hit the gym first! We were gaining weight! *löl*

FAS: After the summer gigs with Gary now, how was the feedback?

Jonne: Well, of course there were all kinds of feedback! It wasn't an easy part for him, big shoes to step in! I think it needs time. As a band we don't need to hurry with that. Gary knows every member in the band, and he is not an official member, yet! He's just an part- time show guitarist. So maybe there are some other opportunities, anything can happen, you know! (well, he is not with them anymore as you can read at www.negative.fi)

Larry: But it was not that worth than we expected it, there were no tomatos throwing on stage and stuff like that!

FAS: I guess in April in Berlin the crowd was really ethusiastic about him!

Jonne: Yes, they were really nice, and we were really nervous there! I did't know anything before about what would happen. But people have to understand, it is what it is. Negative is more than a band to me!
And it wasn't the best way to start for Gary, the show in Berlin I mean, it was really big and a fanatic audience and outside of Finland...
I like if people sing along like they did at Still Alive, when I was doing it acoustic!

FAS: Yeah but you know when you try to let the crowd sing TMOOL, it doesn't work because the tunes are too low.

Jonne: Ohh ah ok, you can not sing that?

Larry: LOVE...IS...RIGHT...NOW...?! (haha)

FAS: Females can not sing it loud, that's why you never her them sing!

Larry: Finally someone said it!!

Jonne: Oh ok, means: QUIT IT!!

FAS: Try another song!

Jonne: That's honest ;)



FAS: Back to the business, can you tell me what you like most being a musican?

Jonne: I think I like that everything is flowing all the time, there's not a certain custom in your life! Every day is different!
And you can express yourself!
You need to learn to handle it, that's difficult sometimes, but it is some freedom!
The songs are only marks that we gonna leave behind us!

FAS: Where do you see NGT in five years?

Jonne: Hopefully somewhere touring, I don't know ;)
Or here, sitting here, drinking coffe with you girls, doing an interview!
I don't know and I don't even wanna know! To be able to know would be boring.

Larry: We're just going on...

FAS: You played a finnish song in Berlin last April, do you ever thought of writing a finnish song for the next album?

Jonne: NO! Probably no, you never know...I don't feel like it!

Larry: You know we have just recorded a finnish song! But it's not for Negative it is for the Dingo Tribute album! Do you know the finnish band called Dingo? (Yes, now we know, thanks ;))
It's from the eightees but they are still playing and they have these hugh Hit songs and we are one band that is playing on the Tribute album! They were like really glam!!

Jonne: Actually that band was a big influence on War of Love, when we looked like (shows big hairs).... you know what I mean! I think you saw some pics! (Well, yes)



FAS: Ok, lets talk about the DVD! I heard very different voices concerning it, what about you?

Jonne: I think I have seen it twice... or once... and I think it is a good start! I mean we had a quite low budget, we weren't in a major lable, most of it was filmed by ourselves, with handcam.

FAS: But who chose the pictures for the DVD, they are really bad and you could have chosen better ones!

Larry: I haven't seen them. Antti was one of them who was really involved in that. Most of them were chosen by the company! There were thousands of pictures sent to us!
There are a few minors I think, for example the subtitles are awful! The company did these things!

Jonne: It was a national release so we can handle it, there were a lot of troubles with the company!

Larry: My mom was not happy to see me crawling there drunken on the bottom in the beginning of the DVD, I had to explain a lot.

Jonne: But it was a good start, you know it was the end of some era, before Christus and after Christus.

FAS: What gives you the strenght to go on, even in harder times?

Jonne: It is some kind of a thought that the ideas comes from somewhere higher. And that I am just a little piece between! I don't know I belive in that! I've been blessed with a gift, you know like John Lennon is writing songs through me. And he isn't satisfied yet!

Larry: Have you seen the movie about John Lennon's murder?

Jonne: With Jared Leto...

Larry: There is this Indian guy who receives notes (music) from John Lennon, and in the end they have this song ready, like John Lennon's songs!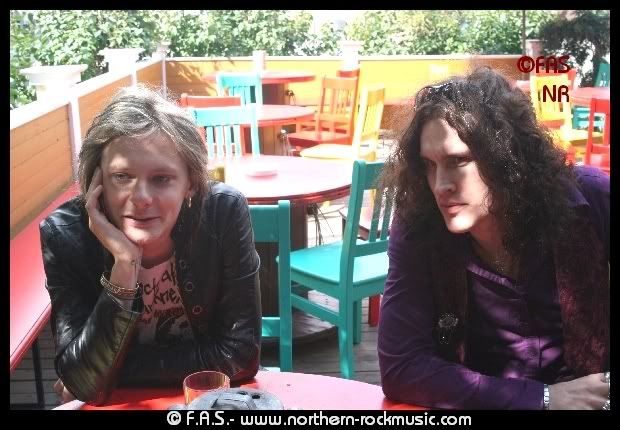 FAS: Ok, if that works... :)
Jonne, how do you liked to work as a producer for Irrallan??

Jonne: It was a nice experience but I would not do it anymore! It was too much pressure for me *laughs*. You know my brother, Tommi, he is the guy who's taking care of the lable so I had to deal with him. Well and that was quite intensive!!! But it was nice to do it once.
You know that Ville went to army??

FAS: I heard that but didn't belive it!!

Jonne: It is true, he's in army now. He called me the day before yesterday and told me that he is so excited. He cannot wait until they give him a gun (beware O.o). Yesterday was monday?? Yes, so he's got a gun now!!

Larry: There's a lot's of money involved. People are betting how many days he will spend there!

Jonne: He's gonna make good money if he stays there until the end! Many hundred euros!
Actually there's a concert, they are gonna play with us in the army area, Flinch I mean, for the soldiers!
And Flinch are gonna filming it for a DVD or something like that!
Ville cut his hair now!! It is very short.
It is god for Ville, yeah I think it's good for him!

(I still doubt)

FAS: I have just one question left, a fan sent it to me.
If someone would make a movie about Hanoi Rocks and offers you (Jonne) the role of Michael Monroe, would you agree??

Jonne: No! I am not an actor! I am really bad in that!

FAS: But it's also acting what you are doing on stage!

Jonne: But yeah in a different way, it's kind of a ritual, you repeat it all the time on stage! It's not really acting, I just go with the flow, without music I could not do anything there!
I even can't dance, I try it on stage and I think it looks a bit stupid, but I'm doing anything to get the audience, to make the girls crazy. *laughs*

FAS: Thanks for your time guys and have a good time then!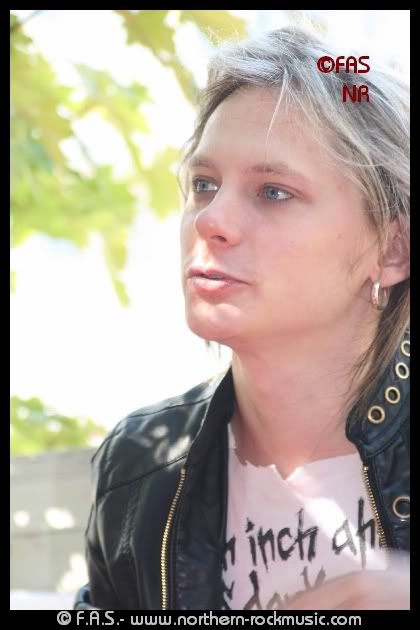 Thanks very much to Steffi for filming and Caro for the great Pictures!
And big sorry to Jonne that we chose the place under the maple tree, bless you!

(c) Frances Amelie Sin
www.northern-rockmusic.com

MORE Pictures of the Interview are in the gallery