Nightwish, Indica and Pain 18.03.2009 Emslandhallen Lingen

(c) www.northern-rockmusic.com
Frances Amelie Sin

Pictures




Nightwish Setlist:

01.
7 Days To The Wolves
02.
Dead To The World
03.
The Siren
04.
Amaranth
05.
Romanticide
06.
Dead Boy's Poem
/
Walking In The Air
07.
Sahara
08.
Nemo
09.
The Islander
10.
The Poet And The Pendulum
11.
Dark Chest Of Wonders
12.
The Escapist
Encore:
13.
Ghost Love Score
14.
Wish I Had An Angel

Well that was kinda interesting, in multiple ways.
For a very long time I tried to visit a gig of Indica... well but I have always been at the wrong place at the worng time. Now it happened, finally and I am pretty happy about it. When I arrived at Lingen it was 19.30 and most of the people were inside the hall. But lucky me I tried to go to the left side of stage where no entrance was and found myself a very good place in 4th row. Right in front of the keys!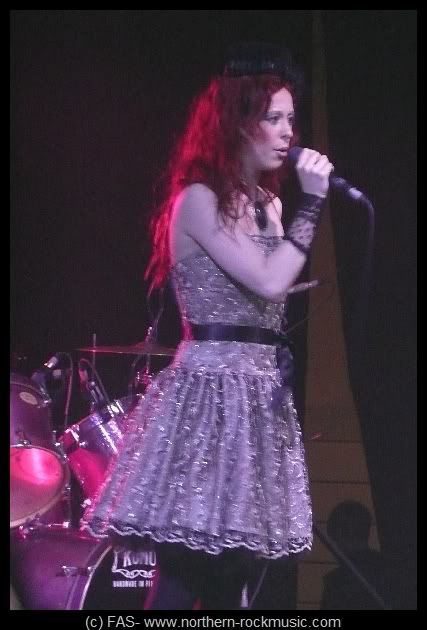 Indica started and I had the feeling that most of the people had no idea who they are and they where surprised to see just girls on stage. This is strange cause Indica-vocalist Jonsuu did a song together with Nightwish that hit the top of the charts last year. The song is called Erämaan Viimeinen it's sung in finnish-that's why Anette as the swedish part of Nightwish did not do it- and is the song from Dark Passion Play called Last Of The Wilds (Instrumental) with added vocals. The girls from Indica are pretty good looking and very special dressed so the males started to hyperventilize and you could hear people shout: undress yourself!!! Well yeah- Emsland!! Jonsuu has a great voice, she can sing everything from classical to hard-rock and meanwhile they have enough english songs to perform just those and no finnish stuff. I would like to listen to some finnish songs but of course for a career outside of Suomi they need to sing english. Jonsuu also played the violin on stage and sang a great song from Kate Bush in her own extreme unique kind.
When they left the stage the crowd applauded long and loud and I guess they catched some new fans that evening!




Pain was next and they were like a bomb as usual. I don't like to listen to Pain on disk but live the are sheer madness!! You really have to feel that. They are not the big performers so you just could see the guys banging and changing positions sometimes. I guess the singer said 5 words, that's it! But the sound was brilliant, yeah I guess the whole sound that evening was great.
Then came Nightwish. Anette with the blond extensions you could see before at the U.S. tour- I prefer her dark- and a stage design out of a dream. Tuomas' keys where put inside a boat on a rock called Ocean Soul and behind that scenery there was a huge picture of dark open sea, the monitors where coated with rocks and a big anchor stood behind Emppu's place!!! The fog was very controllled and flooded just a few centimters above the bottom, thanks says the photographer!! Fairy-like, and kinda dark!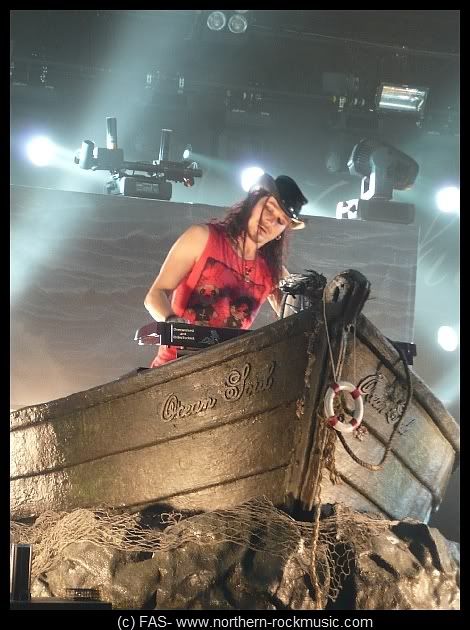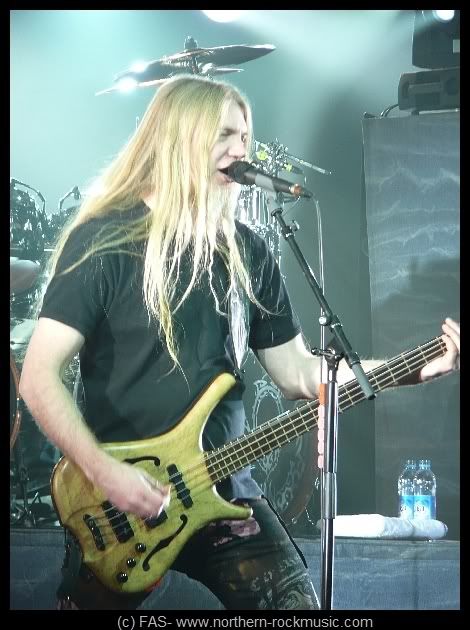 They opened with 7 Days To The Wolves and I was a bit eased how much better Anette sang. Not as weak as before but still not voluminous enough for Nightwish as I think. Then it hit me like a hammer when I recognized the tunes of Dead To The World... wow, that's a gamble to try this song with Anette but well actually everybody loved that song and it was simply indifferent how she did it, we all just enjoyed it and Marco bailed it with his blasting vocals! There where a few more surprises in the setlist, like who ever expected them to play Romanticide and Dead Boys Poem??? I did not but I was pleased they did.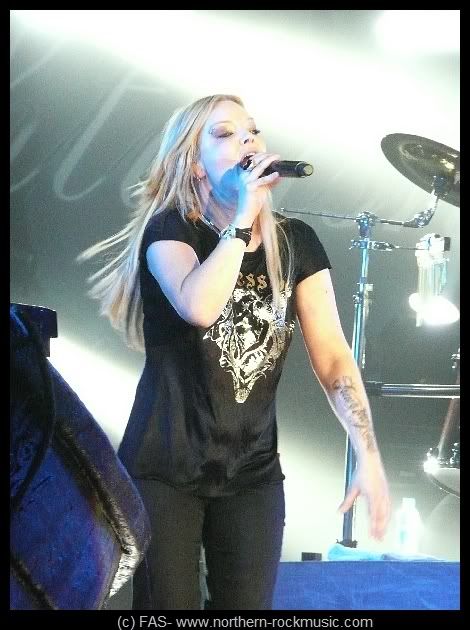 At Dead Boys Poem Anette starts to really falter the first time and it went on with a bad performance on Nemo. She simply cannot sing it, why do they still try?? And the worst was The Poet And The Pendulum - I love this song, but singing it an octave deeper than on the album it is without any charm... sorry but they should quit it!! The Escapist was a great one- well there where a lotta people not knowing it, whyever- but it's one of my actual faves and it's Anettes song, she did it great! After the short break they encored with two more songs, well we should better forget Ghost Love Score and the weird tunes Anette volunteered before they started the big final bang: Wish I Had An Angel. Then they bowed and left the crowd.
On the whole it was a gorgeous spectacle I would not like to have missed and even Anettes problems with the classical parts can almost be ignored. It's still not what I want Nightwish to be but the purity and the power of the songs makes them unique with or without a classical vocalist. And as I said before: Anette is cool and she moves on stage like she belongs there.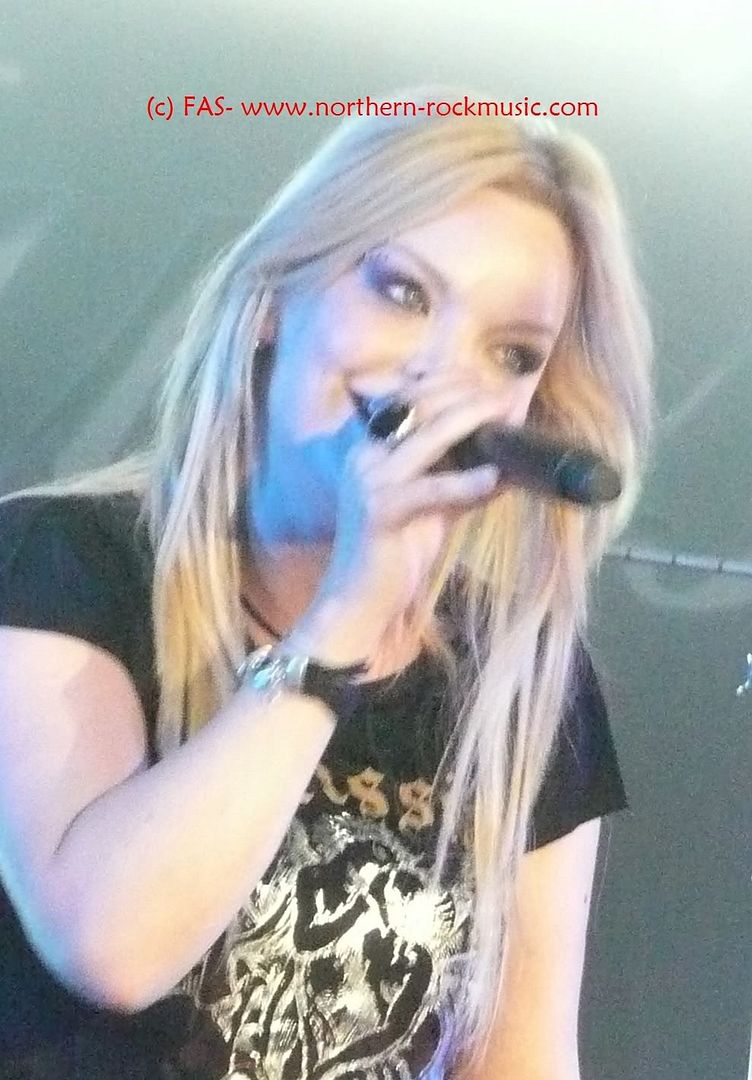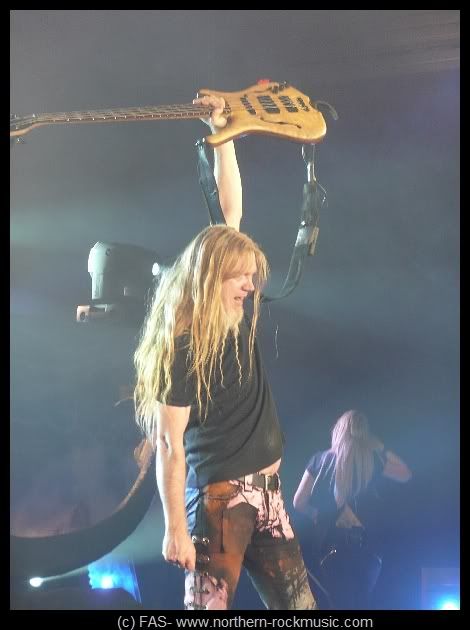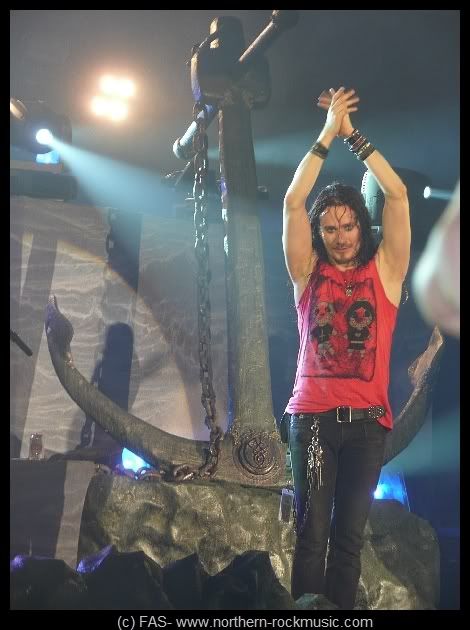 Tons of pictures are in the gallery!!!