OMNIA AT THE "ANNO DOMINI" IN LUXEMBOURG CITY 26 + 27.07.2008
(c) Tanja, www.northern-rockmusic.com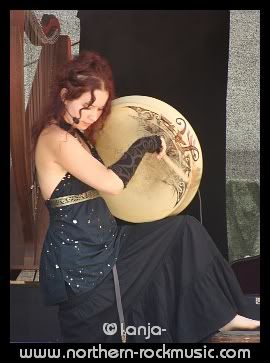 It was already the fifth time that the visitors of the annual medieval market/festival "Anno Domini" in Luxembourg City had the pleasure to see Omnia on stage in the old part of the city. During two days they rejoiced us with diversified Pagan Folk and a bit of multilingual stand-up comedy mainly featured by their singer Sic.

Some people might think that it's boring to see the same band every year again at the same place! Not if the band is called Omnia!
Every year they present us new songs, new versions of old songs, new stage decoration and this year also a new band member ; Mich on the drums.



The set was an agreable combination of songs displaying the evolution of their music, like for example Auta Luonta (Crone Of War), Dil Gaya (Pagan Folk) and Fairy Tale (Alive!). Not to be missed and much appreciated by their fans "The Morrigan"(Crone Of War) and "Entrezomp-ni Kelted" (Pagan Folk).
Interacting with the audience and not wanting to play the same set during two days, they varied a lot without leaving out their most famous songs.



Not the bad weather on Saturday, nore the occasional rain showers on Sunday could really wash or blow away the magic they've once again brought to Luxembourg!

Let's hope their way will cross our city next year aswel!