GIG REVIEW -Phoenix Effect 05.08.09 On The Rocks, Helsinki
w Two Timers (UK)
written by Anni//Ani Wikked (c) Northern-Rockmusic.com
Faster, harder, cheape

r
Helsinki. August 5, 2009. A warm late summer's day in Finland's capital Helsinki. I had found my way to the On The Rocks to attend a Phoenix Effect show -my first PE show ever! But... Where to start with?! The first impression I got when I came downstairs to see some live music was "Wow!" I couldn't think anything else. In front of the stage was already a fan base settling down for the best view onto the stage, the club itself wasn't packed -but it surely wasn't empty either!
Which is surprising, so I thought remembering the interview I had made with the guys from Phoenix Effect earlier that evening. Didn't Janne (Kärkkäinen, authors note) just tell me the band, as it now was, just started? Like about six months ago?!
I couldn't give too much of a thought about this fact because the opening act, Two Timers, from Bristol (UK) had already started their show. I was fascinated by their tunes and been immediately put back in time to my childhood, when I used to listen to my dad's band rehearsals in our garage. The Two Timers came along with catchy, handmade Rhythm 'n' Blues that would carry the audience -even though the audience pretty much consisted of a lot of Phoenix Effect and/or Janne Kärkkäinen fans!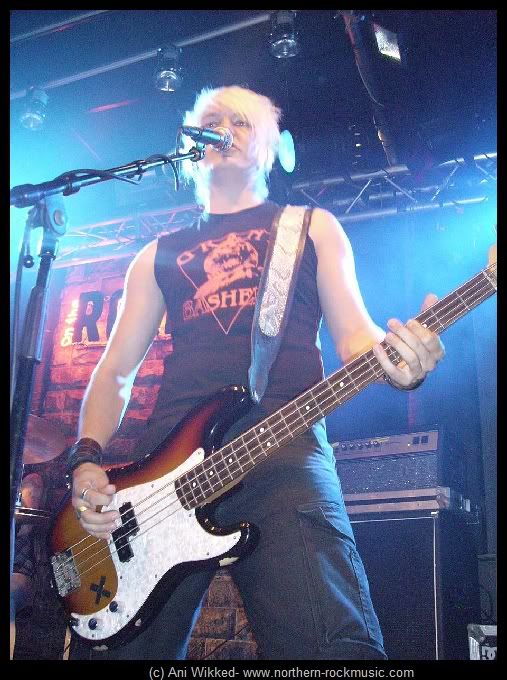 At about 22.30 o'clock Phoenix Effect finally hit the stage -with an deafening applause from the audience, especially from the girls in the front row. If there was someone inside the club that had forgotten the name of the band, they just had to give a look at those girls wearing PE t-shirts. What a help!
I can't recall the set list -but that doesn't matter at all. I was fascinated right from the beginning. It really was the first time ever I saw the guys live and they fuckin' rocked the show!
Musically Phoenix Effect is a wild mix of rock/alternative music ranging between influences of bands like Foo Fighters, Alter Bridge and... I'd even say there are still some Sunrise Avenue sounds in, at least, one of the songs.
The show started off rather soft and a little bit on the calm side which made me think Phoenix Effect is yet another new band playing solid but not yet special everyday rock music. But I was about to be proven wrong rather quickly! After two or three songs they blew me off with harder guitar riffs and fast drums that almost reminded me of some rock/metal-like music. Pretty much stunning!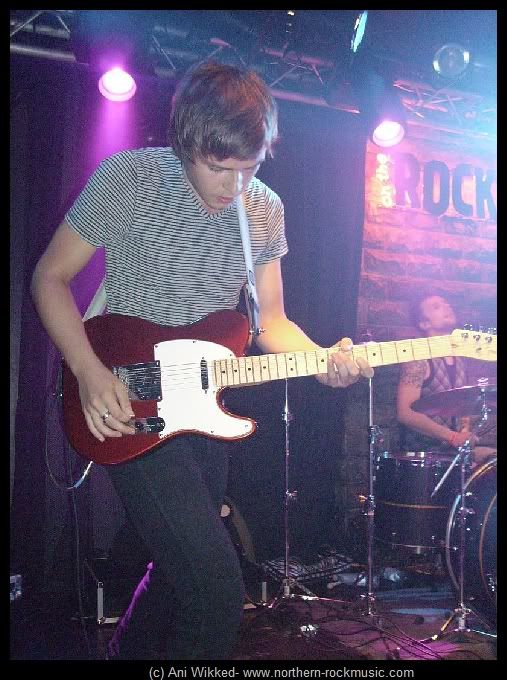 The fans meanwhile sang along with them, which surprised me yet another time. I always had the short time in mind the band actually existed and had released their record. It was amazing to see that there were a lot of fans -most of them, obviously, from the older Sunrise Avenue days that are still following Janne and showing him and his new band a lot of support!
All in all one could say that Phoenix Effect is a band with an energetic live show, catchy music tunes and good lyrics -plus, they probably have one of the best fan community a band could wish for! Fans have even traveled the long way from the United States just to show their support for the band and yet again there have been a lot of German fans around as well. Some of them yet (again) traveled to Helsinki just for Phoenix Effect! I knew this would happen for HIM or maybe Negative but I hadn't expected this to happen to such a "newcomer". The band showed me it is worth it though...
...solid played, catchy rock at its best!