Interview
Jack/ Private Line 20.03.2009 Helsinki- Mama Trash Festival -Gloria
by Carola Scheele
(c) www.northern-rockmusic.com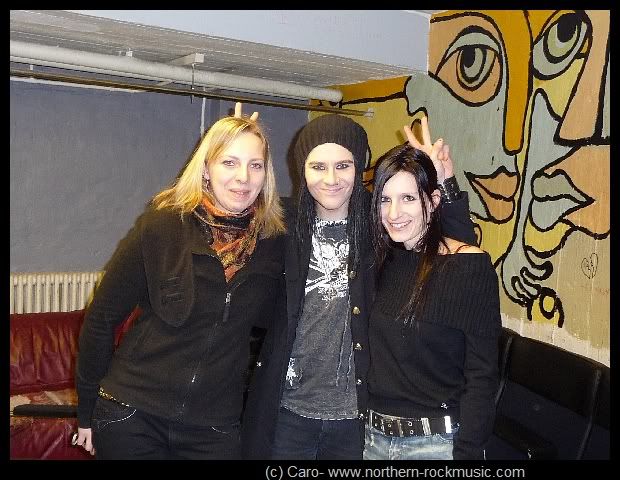 Can you give some information about the new album?


The new album… ahm…it's coming.



And do you know when it's coming?


I think later this year… I think it's gonna be fall when we can release it. We're still working on it. Doing our Finnish democracy *laughing* Ahm…it has taken a little bit more time than we expected. But we're doing as… best as we can… so… we don't wanna release the album with the songs that we are not totally happy about... so …but it's coming …it's gonna be our best album.



Okay. And can you tell us something about the style of the album?


Style…okay. I think it's a little bit darker than the earlier albums… but not any gothic way or that kind of stuff. I think the lyrics gonna be a little bit darker. There's been happen a lot of a rock up bad, a lot of death surround us. So I think there's gonna be some hard stuff but still a lot of stories about life and… life and death. *laughing*



Do you already know where it will be released? In Germany,too or only in Finland?


Yeah … I think it's gonna be released in Germany but I can't promise anything. Ahm…It looks …like we have good chance to release also there... because…because of the last years' tour and I think we're gonna go back to the Germans so it's gonna be released also there. If the people want to buy I don't know. Now you can download everything from the internet so… *laughing* I think people who wanna listen it gonna get it somehow…you know even if it isn't in the stores in Germany… I don't' know.



And will there be more shows this year?


More shows…ahm... well we're gonna do some shows in spring but we gonna still... keep… like… aah… a little bit time for the studio ...and you know… getting ready to release the new album… so I think that almost whole of the summer we'll gonna go to studio time and to get finish the album …so… I think in the end of the year when the album is out …we can start to tour as usual and continue it to the next year and next year and so on.



Okay… so the next question… If you were a teacher at a school for one day, what would you teach the children?


*Thinking smiling laughing*



Subject or motto or something…


Well... you should ask that from my sister 'cause she's a teacher *laughing* but… ahm…I think…I'm not a role model so… I'm not a teacher …so I don't know what would I teach… but maybe some respect to the other people and…you know... we're all equal… maybe I would teach a couple chords from the guitar… and some peace and love…



Can you tell us some "strange things" that happened during a tour or in the band life?


Strange things... so well…strange things happen almost all the time, you know…amh… well…that is that question… you know… ahm…*laughing*... ahm… there is so many stories that I don't know where to start and ahm…I would take a whole year to tell you…about all the stories but … ahm… one time Eliaz went to the jail and we didn't knew he went to the jail and…during one tour and ahm he called us like "Where the hell are you?"… We had to leave from Turku... another town in Finland… we had to leave to Helsinki without Eliaz because we didn't knew where he was so he called us later like "Where are you fuckheads? I was in jail!" *laughing*



So he was lost in Turku?


Yeah. He actually returned to the one station ...he had one cowboy hat… you know …and razor... that was all the things he left behind him.
*Everbody laughs*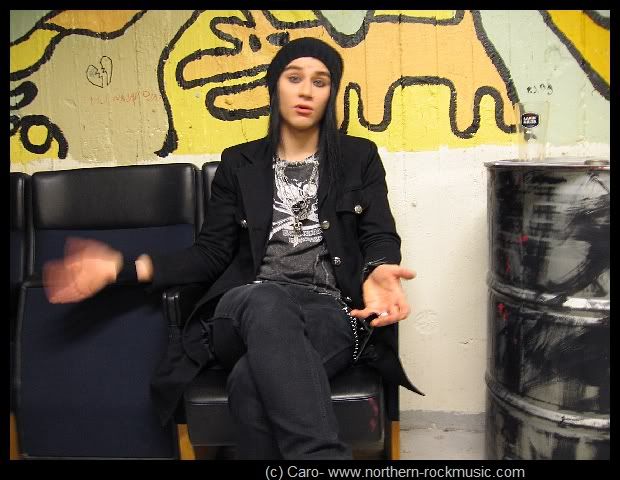 And if you get some fan presents…


Yeah …


…what was the weirdest or craziest thing you got?


Craziest thing… aaaaaaaah…well... ahm… I get many kinds of presents and I like all of those so…nothing is strange for us. *Still laughing*



And… ahm…can you play other instruments beside guitar?


Well yeah … I play bass guitar also and I can play a little bit drums but not so well and also a little bit piano and Keybords … and I don't know…and sing a little bit.



Well... do you allow somebody else to use your instruments?


Hm?


Your instruments…


Hm.


… do you allow somebody else to use it… to play them… or is it like "holy things" you never give away…




(Jenny: …holy guitars…)


I don't like to loan my things… but of course all the guys of Private Line may use them.



Okay… and with which one from the band would you like to change for one gig? For example with Sammy and then you sing the songs…


Mmh…I'd like to… probably play drums or bass guitar.
Okay.
If I … if I had to… if should chose… But I wouldn't be that good as Eliaz or Spit… so I would need their skills, too.
And then you could cover yourself with changed roles… like "Private Line covered by Private Line"…
Yeah … but I would put our album in the record player. *laughing*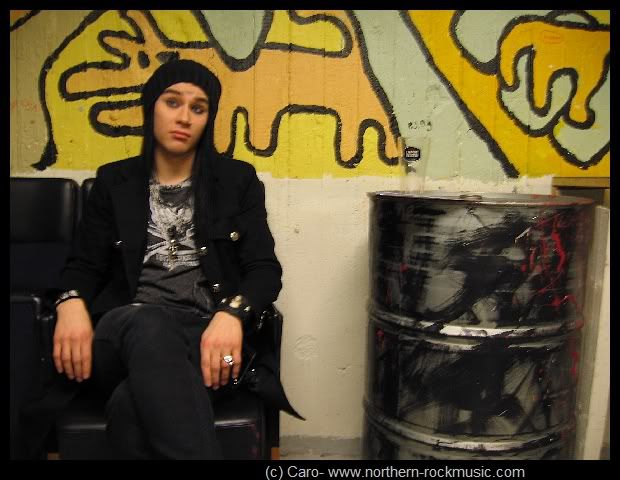 So do you miss singing? Because you were the singer in your former bands…


Well I… sing enough in Private Line… nowadays also… it's… it's enough for me…
I'm not that good singer as Sammy so… I'm different kind of... I've got a little bit darker voice… I've smoked so many cigarettes and I've that whiskey-voice right now so… It's enough for me to play… ahm to sing ahm… you know… background vocals.



So another question about yourself. Is it possible to get your old record from Palmcut somewhere?


Palmcut? Well those were like promo-CD's and demos. So if you can find those from the internet just download it but those are not for sale anymore they are all sold out. But of course I have those copies and I have a lot of secret material from my past …but…I think when I'm old enough… I can release those *laughing*



Like a "Best of" of yourself?


Yeah … One day before my… death… I can release those. *laughing*



Ahm… and what are the best and worst things during a tour?


Ah… well…tour… I love touring and I love… love to be on road because… ahm…I get bored really fast if I'm sitting home many months…so… and I'm also already bored doing that studio work… I'd like to release the album now and go to play some shows …but at this point... I can't. But tonight I can. Ahm... well…it... it is great to play with Private Line because those are the best musicans I've ever played with so…it's …it's a great thing, you know? Even though it takes so many hours in day to getting ready for one show… you know one hour on stage that's the main thing and the rest of it is like waiting and sitting in the car and getting ready and do your make up *laughing* and eat and… you know…that kind of shit. But when you play the show, it's worth it.



Yeah.


So all the waiting is frustrating but you get used to it.



So when do you have to be here when the gig is at night?


Hm?



When have you been here today?


Today?



Yeah.


I came here one hour ago.
So…I slept three hours tonight. I dryed my hair this morning… *Everybody laughing* and that kind of shit. But I'm gonna go back… home…



To sleep?


Yeah … no… not to sleep but after the soundcheck I gonna get… maybe a couple of beers and getting ready… getting ready for the show… trying to find my clothes *laughing*



And do you have some other projects besides Private Line?


Yeah well… we have those… you know therapy projects with other Private Line guys and guys from Stereo Junks! That Evil Boys band, for example. We play some old, good old punk songs from Dead Boys and (something we couldn't understand *sorry*) That's like a therapy project, you know? Playing some old punk songs that… that… that is fun to play and not so serious thing like… well Private Line ain't so serious but... you know... you have to…you have to… well… be a little bit more specific with Private Line than with other therapy things, you know? You can party a little bit more with those *laughing* things. And I have some other projects coming as well but I can't talk about it. But… hear you later.



Do you still have your radio show, or…?


No. No At this moment not… because we… we…we got bored last year with Jopi... Sheriffi Jopi…ah... and… we thought "Let's end it right now." Because we didn't have enough time… because I had to get ready for the new songs for the Private Line album… and some shit was happening… but maybe some day again… I don't know.



And…ahm… what was the first concert you have been at?


Ah… I think… I'm not sure… I think it was Hurriganes… this old Finnish Rock 'n' Roll band…in... somewhere in the middle of Finland if I remember right. It was Hurriganes called or Waltteri (we're not sure, if he really said this *sorry*). Because when I was younger… maybe I have seen some shows but I can't remember.



Yeah. So what was the first important show?


First important? Mhm… maybe some… some of my own shows… but…well Backyard Babies when there were touring with Total 13 …it was in 1998 or 1999… in Jyväskylä -Lutakko it was… a great show.



And when did you play your first own concert?


*long thinking* Yeah …well… maybe it was something like… 94 or 95…I have I have some old tape from that one but I don't remember the year.



(Jenny) And how long did you party afterwards?


Hm?



How long did you party afterwards?


I think I was that young that I didn't party at all *laughing*



Was it a school concert?


Yeah the gig was in a school because… of course we played a lot of concerts in the school… we were like underage that kind of…





So… what was the worst rumour you have ever heard about yourself? The worst thing, you heard about yourself?


Ahm…*shaking his head* Now I didn't understand…



So…sometimes you hear something about yourself and you think it's very bad or it can't be true… so what was the worst thing?


A rumour?



Yeah.


*thinking*… I heard many kind of rumours but…I don't know if there is… because I … I know what has happened …or I almost know what has happened in my life… there was a couple of wasted years but…mhm…well… right now I can't remember anything … more of those… you know…I think those… fanfictions *laughing* are much more… weird than some of the rumours, you know? All the gay porn with Sir Christus and other Private Line members are more … weird things than the rumours.



So you read them?


Hm?



Do you like them? Or do you read them? *We're still laughing*


I… I don't read those because I don't have time… but ahm…a couple of years ago when I fond some of those writings from the internet I was like… I was laughing my ass off. *laughing* Fucking kinds of thoughts of a human head *laughing*



Do you want to read a new one? I have one.


Well...If… if it…



You want to have it?


Yeah. Yeah … If you can give me I can have some fun tonight. *laughing*
Thank you. You wrote it?



Yeah.


Okay.*reading* I'm not cute… allright. *we're laughing* I'll… I'll read later… now I have to concentrate.

(Jenny) Drink something first.
Yeah.



Okay, another question. What do you want to read about yourself in a magazine?


Ah…*thinking* …ah…oh…well…I don't know. Nothing special… why should I read it… ah… want to read something about myself in a magazine? I don't know. Usually when you read your own interviews they are boring because I know what I've said so…



Sure… and…have you ever written a song in Finnish?


Mhm…Yes.



But you would never record it…


No, not with Private Line but… ah… me myself we have written some Finnish songs but I never release those.



Oh… so… mhm… two questions left…


Okay.



The first one: Is stage diving dangerous?


You mean like… Are you asking me if it's dangerous? *seems to be really surprised by this question*



Yes.


Ah…*exhaling* yeah … *thinking*… You mean like if I dive or what?



For example, yeah.


Sometimes it can be dangerous but life is dangerous. You can die at home.



Okay *laughing*


So …I don't… if I think myself on stage… it's that kind of moments that you have so … such… so… such a adrenaline kind of mood going on in your head that I don't think anything on stage, you know? About is it dangerous or not? That's why I… I fall down from the stage and broke my feet…teeth a couple of times and a… broke my chest… chest ribs and a… many kinds of things…but I'm still alive so…



So did you notice at the next morning what has happened last night? (I actually wanted to ask, if he didn't noticed until the next morning what had happened)


Of course. *laughing*



Yeah … ah…now a question I forgot… it was about touring…


Yeah.



Do you have the same room-sharing concept every tour or …ahm…so… who shares rooms with… ahm…who?


Ahm… now I didn't understand…so… tell me again.



When you are touring…


Yeah.



… who…ahm… shares the rooms…together…


Ah… shares the rooms. Ah well… it changes but usually… Spit and Eliaz has the same room… and Sammy and Illu has the same room and me and our guitar technician Jani… who is one of my best friends… and… we have known each other so many years but…we can have fun together. I… ahm… I … get bored sometimes to watch the same Private Line faces all the time so it's nice to have a room with another guy not a member of Private Line. But I also share rooms sometimes with Spit and Sammy and… it depends. It depends what kind of rooms you have…

Yeah.
I like to have that… ah… biggest room in the top of the building… you know… that suite with the Jacuzzis and everything…a bit champagne…



Yeah … bad rock star…*laughing*


I was joking… my dreams…
*laughing*





Now I have something you can fill out, if you want to…


Yeah sure.



I have a pen somewhere…


*studying it* It is like in school… tests…tests…



Yeah … I'll be teacher so be perfect.





While he's filling out the questionnaire we decide to ask him a few more questions afterwards.





(Jenny) Now I have got another question… if I may…


Yes...



(Jenny) So you were touring in Germany, so what were your impressions?


Impression…



Yes.


It was an awesome experience. Fans were great and we were really surprised that there has so many people come to see our shows… and fans were singing our lyrics and following us from town to town so it was… surprise… because we had only played one show in Germany, in Berlin, in 2005. And we haven't released our albums still yet so, you know … when so many people are coming to our shows, it's great to notice that people can find the music… now days with the internet and that kind of things and they come to the show even though you don't have our album in the stores so…we were totally happy and it was great ground work for the next tour.



(Jenny) Did you see anything beside the hotels and ah… locations?


Ahm… well… We only had two days off, you know? 5 gigs in a row, one day off when we were … ah… of course the fifth day when the first… ah… you know… day off came you know… we did of course party a little bit more … tomorrow we can sleep. And of course we slept almost whole day because we were so tired… ah… we saw some… some old churches in Vienna but…that was almost all except all the gas stations and ah…changing landscapes from the window of our tour bus but…it was enough. And a lot of bars…a couple of beers… *laughing*



And what was the worst concert during the tour?


There wasn't any worst concert… I loved all the concerts. Of course every place was different… there were like smaller clubs and bigger clubs but there wasn't any bad concert.



But ahm..for example in Berlin the technique didn't work…


Of course… of course there is technical problems. There was also in Bochum… there was technical problems and in Berlin as well but…ahm… this things happens… you know… clubs are different and there have different kinds of techniques there… so it's not actually our… our… it's not our fault so…ahm… we do our... our work as best as we can… that's all. And we try do enjoy and we hope that fans are enjoying as well because… and I think… you know… fans can understand that if there's a technical problem it's not our fault. So it's not gonna ruin the show of all the electricity would go away.
Sometimes it's even more funny if the technique doesn't work.
Yeah, something happens and gives a little bit more attention and it can get people to laugh… when …when we can continue the show it will be even more fun.



(Jenny) I remember in Bochum the microphone didn't work but the audience sang all the time…


Yeah … in Bochum there was a whole PA-System fell down, you know. All the electricity from the PA-System so that's why we … ended the show after a couple of songs and came back when they'd fixed the problems. So… little difficulties but it's allright.





And what do you think about acoustic shows?


Oh… we've done… I think we've done four acoustic shows. And those are great… sometimes. I think we can do in the future a couple of more but I don't know when. I think when the new album is ready and we gonna release it I think there's gonna be some acoustic shows in the record stores. I loved them. I love to play those… it is more like… you're much more closer with the audience in acoustic shows.



Yeah. So how many guitars do you have? *I can't remember who started laughing, but he didn't get the question*


Hm?



How many guitars do you have?


Ah… *long thinking* … ah…just wait I have…let me see… *seems to be counting them* I have… if I remember right I have eight. Eight guitars…at home at this moment.



But you know, where they are in your home?


Yeah. On my wall.



Okay.


But there is one right now. *pointing* *laughing* One other is coming. My guitar is late, like me.
*laughing*



Then we asked for a video-message for the fans. Unfortunately I can't get it our of my evil camera :-(




Well… so you have to read it:



"Wait for the best album ever to come this year from Private Line, the best band ever. Ah… Come to see our shows, well… if you happen to be around when we are coming around. And… ah… make love not war!"

THANKS TO JACK SMACK FOR THE INTERVIEW!!!!!


And thanks to Sarah and Jenny for "assisting" during the interview and to Isa and Caro (www.sindicate.foren-city.de) for making it possible to get the other's questionnaires.

Questionnaires see below!


Jack (20.3.)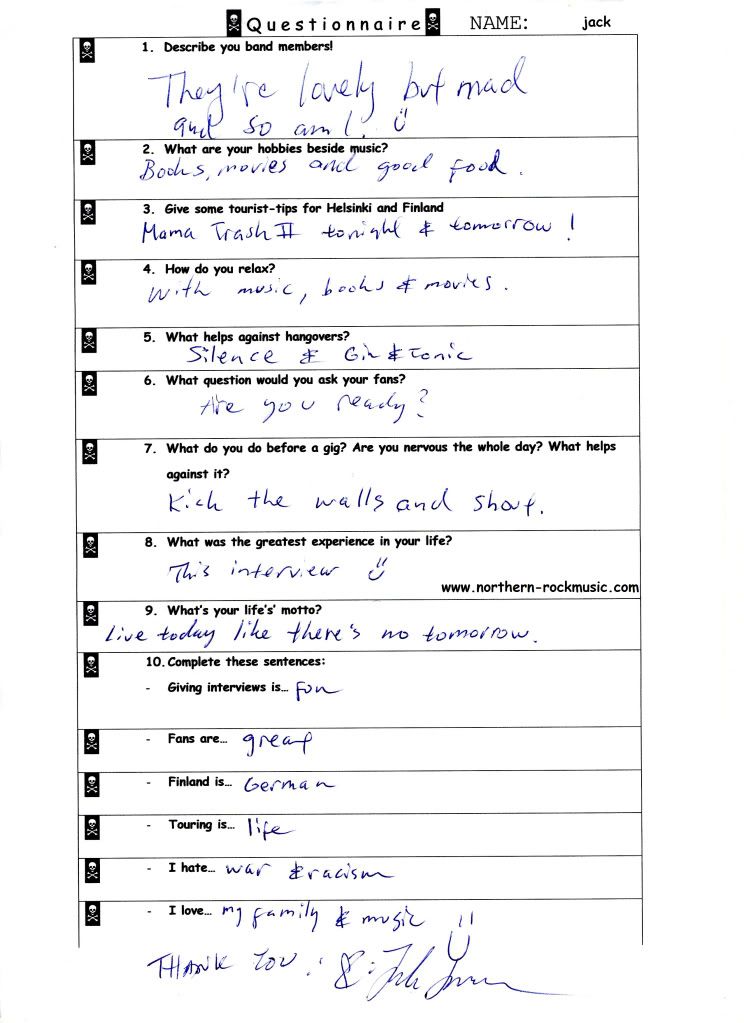 Eliaz (22.3.)