Interview with Reflexion @ Wave Gothic Treffen / Leipzig 27.05.2007
by Frances Amelie Sin™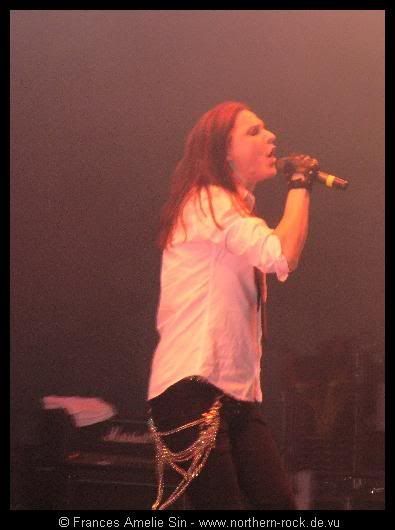 01) I think the people that visit my website will not know you so well, so maybe you can introduce them to the band!
Juha: Well Reflexion is a very old band, we play since 10 years together, we made one official album and 2 official singles. At the moment we are recording our second album.
02) Tell me about the new album, what is the difference to the Out Of The Dark album?
Juha: we recorded like 3 songs now, so far, we have like 15 songs for it and we plan to continue the recordings soon, it's hard to say how it will sound in the end, but the 3 recorded songs are much harder and more powerfull than all we did before. Well the producer has a big effect on it, this time we have a metal producer!
03) How long did you worked on Out of the Dark ?
Juha: Out Of The Dark is full with songs that are really old, that we played over all the years, but we recorded it in a few month.
04) How many songs do you to chose/select for a album?
Juha: This time we have about over 20 demos, and about 15 serious arrangements for the album. I think we will record about 10 to 15 songs.
05) Juha is also the singer of For my Pain! Does anyone else have other bands besides??
Mikko: No not at the moment, but I plan to!
Two of the guys: Nothing serious, just for fun!!
06) You never played in Germany before, so how's the feeling now??
Juha: It was great, it was a very important step for us. The arrangement was very goot and everything worked so great here!
07) What did you expected before you came here??
Juha: Well I think that we have a pretty long history and the people had always liked our music, you can see when you read the mails we get and the reviews on the websites...
We awaited the gig to run very well! We have a lot of fans here, we now that.
08) Do you plan touring Europe in time, doing a release tour??
Juha: Hopefully we are going on tour before the release of the next album, at the end of the summer maybe.
09) How would you describe your music?
Juha: Well there are some goth elements of course!! It's very hard to say, it is hard rock and metal.
Mikko: Maybe it's not a good idea to put it in a category! I think it's hard rock influenced by a lot of music styles.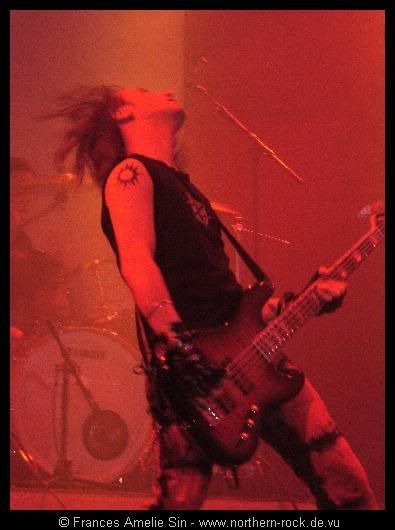 10) Was it a childhood dream to play in a band?
Mikko: Of course!
Ilkka: I don't remeber!!
Juha: For me it was! To play in a band, to do gigs and play outside of Finland was the biggest dream and now we are living the bigges dream.
11) Why did you changed your name from BabarianZ into Reflexion and what does the name mean to you.
Juha: It is obvious when you see what it was before, oww don't say it , please ;)
Mikko: Our name fits to our music, when you listen to it you will know why Reflexion is the perfect name!
12) How do you write songs?? First melodie or lyrics or while jamming a little..??
Mikko: Well Basically it's like first the music and then the lyrics.
Juha: First the music and then we arrange the song with the whole band and then I do the lyrics and thats it!! Sometimes the guys help me with the lyrics. The lyrics are like my personal diary, they are very private in fact.
1
3) Do you remember your first concert together ever with this line up and how was it??
Juha & Mikko: Well it was in 2005 in Tampere.... (the rest was finnish, sorry, whatever, they discussed if it was Tampere or not, thats all I could understand!!)
Mikko: But our first gig together (Mikko and Juha) was in 1996! I broke a string but it was good.
14) Did you make music your occupation or do you still have another job besides??
Juha: Yeah well we have some other jobs, the music doesn't pay for our rent but I don't say what, it's a mystery!!
15) At last some message for your german fans...
Juha: I will hope that we get the tour planned before the end of the year and that we can release the album in autumn here and thats the main thing we are concentrating in at the moment!!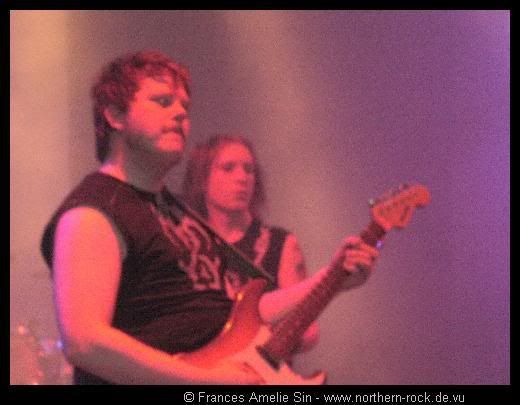 Thanks to:
Reflexion for this strange outdoor interview at midnight under a street lamp ;)
© Frances Amelie Sin™
www.northern-rockmusic.com
Pictures of the show:
here