Interview White Flame 13.10.08 Hamburg Logo
(c) www.northern-rockmusic.com
FAS: What can you tell me about the band? What kind of band are you?
Jony: We are White Flame!
Anthon: We are four members… ähm.. We are stupid.
Vince: All we do is get drunk and try to make interesting sounds as we go and maybe everyone likes it.
Jony: We are pretty nice.
FAS: How did you came together as a band?
Vince: We were four. Those two (pointed at Anthon and Jony) met at the government.
Anthon: Yeah we met at prison! I like fun (everyone's laughing)… It took about four years to complete…
Sammye: Then I came with the car..
Vince: I don't wanna talk about destiny, it's the wrong word but it's like if you are certain kind of people you just wind up toghether no matter what is gonna happen. Me and Anthon were classmates from when we were kids and we never beat anything together music wise. The only thing he did to me is: "Hey, listen to this Aerosmith thing, it's real music and forget that shit you're listening"! And then after ten years we just wind together.
FAS: How do you like the tour so far? You played some gigs now.
Vince: I love sitting in the car. Haha
Jony: It's great so far,… I like the audience.
Vince: The people seems to really enjoy what we have to offer.
Sammye: Yeah they're very cool but I could get some more sleep.
FAS: So what do you think of Germany?
Vince: We really haven't time to do anything else except just doing our show…
Jony: Sitting in the car…
Vince: Driving from town to town..
FAS: You just saw a lot of highways?!
Everyone: Yeah!
FAS: OK! How would you describe your music and what are your influences?
Jony: Rock'n'Roll!!
Sammye: It's kind of black.
Jony: Fascinating sound.
Anthon: (whistles something)
Vince: Yeah even later than that I think all of our stuff goes down to the blues. I mean in the core.
Anthon: Yeah and it's a lot of engergy in our music.
FAS: So you first Album will be released here in November, I guess?!
Everyone: Yes!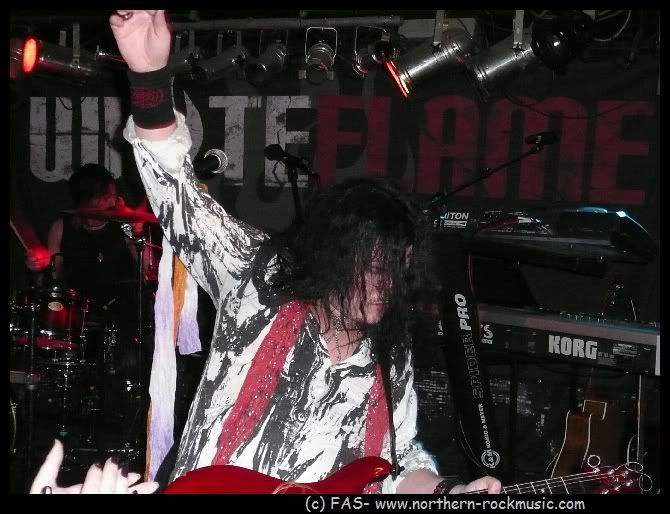 FAS: Tell me about the Album and about the working process.
Vince: It tooks a long time. I guess we needed like 6 month. It's quite rare that man can take that long time. We are really blessed that our record company let us do it for that long time to make the album how we want to make it.
Sammye: And we really needed all this time. (laughs) Yeah!!!
Vince: It's a very tide album. It doesn't let you breathing very much, only a couple of time before you get screaming again (laughs). But I would say it's pretty much a party album. It's about mostly having a good time maybe saying "Fuck off" a couple of times to someone who doesn't like what we are doing but otherwise it's just in a funny way. So Fuck off (laughs)
FAS: Do you have a favourite song on the album and why?
Vince: Well not really! We love all the songs.
Anthon: Yeah, it's our baby. You can't say: I love you and you and you but I hate you.
FAS: Who's writing the lyrics?
Vince: I'm writing the lyrics. (...pointing on Sammye) He's writing a little bit too. He's starting.
Sammye: Yeah (laughs) I'm a little bird.
FAS: What are the songs all about?
Vince: It's about stuff what doesn't happen to me but happened to someone I know or I just made up. It's all about a person who got weird ideas, like how would it be to be a squirrel only for one day and then I could walk on an electric wire. That makes no sense but that's me. That's the way I try to do some lyrics. You know, there's the normal approach and I try to take one, two, three steps out of this regular process because it's more interesting and someone has to like it: ... listen "what is he sayin? Why? What's wrong with you?"
Anthon: So probably the other side is to play them.
Vince: Yeah!
Anthon: It's always two sides.
Vince: When I make lyrics I want to make stories that haven't been told already. I don't want to make a song about: Oh oh oh my heart is aching because you left me –at the end. I wanna make new stories.
Anthon: And probably everything ends up with a girl.
Vince: Yeah it's all about the girls… and the Jägermeister..
FAS: How did you come in touch with music?
Vince: We were in music class together (pointed on Anthon) when we were kids.
Jony: I came in tough when I were in school. How many years ago?? I don't know. Can't count. But there were some guys playing some instruments and I like to listen to them.
Sammye: I can't even remember (laugh)
Vince: I think it was that moment when the Wickfield song "Saturday Night" came out. I was like (he's waving his finger in the air and singing the song.) I'm kidding, I'm kidding.
Jony. No you're not.
Anthon: I got into music when Alice Cooper and Aerosmith came into my life. There's no turning back after this.
FAS: Is there any musician you like to work with in the future?
Vince: Ähhm. Prince. Because I think he is just perfect. You know, he's a great musician, guitar player and a song writer. He has a great sound and he is fucking cool. I really think Prince!
Sammye: I dont know, there are great musicians. Maybe...
Vince: Hasselhoff.
Sammye: Yeah David Hasselhoff….
Everyone is laughing then we got interupted by a drumsolo of Julian (Lovex) til Vivian Sin'Amor told him loudly, we had an Interview here!
Vince: He got inspired by David Hasselhof. (everyone is laughing again)
Jony: I think I would work with… as many musician as possible. I mean everyone has something to deal with. I don't have one special
Anthon: Well probably with Aerosmith but of course with Vivian Sin'Amor, Lovex.
Vivian (he was sitting t the PC behind the guys) turned around: We can do this.
Anthon: I would love to do this. (everyone's laughing)
FAS: What other hobbies do you have besides the music?
Anthon: Searching what happened in the internet.(laughs)
Vince: We play a lot of video games. The only problem is, everyone has a different console but we are playing all the same game.
Anthon: And were are icehockey fans.
FAS: Do you play icehockey yourself?
Vince: As you can see (laughing) We are very athletic.
Sammye: No we are not.
Vince: Last year for partying we played hockey. It's like icehockey but inside. But yeah, we lost every game. I think we made two goals.
Sammye: In three games. (laughs)
FAS: Do you play in other bands or played in other bands before?
Vince: I guess everyone has a dirty secret. I think I played in six or seven different bands.
Jony: I played in a few bands too.
Anthon: Yeah there were a few bands. But now, I'm only playing in White Flame. Oh no…
Vince: Yeah, not really. Three of us and a couple of other guys form Tampere have an Aerosmith Tribute and if you have the chance, check us out.
FAS: I keep it in my mind.
FAS: Last Question. What do you wish for future and what are you plans ?
Vince: I wish flying cars (laughing) and foot in pills. AND alcohol in pills of course. Instant Jägermeister. Yeah!
Anthon: That will be great.
Sammye: I wish more gigs and more touring and maybe more sleeping.
Special thanks to Vince, Sammye, Anthon und Jony for his time and Steffi for filming.
(c) www.northern-rockmusic.com
Frances Amelie Sin
Pictures of the show are in the Gallery